Who are we?
A little history

The Hair Extension Guide was founded by Ron Landzaat in 2004. Ron is an entrepreneur who has been involved in the hair cosmetic business for many years. He is not a stylist or hair extension technician but he knows the hair business and the Internet.
Before moving permanently to California in 2002, Ron traveled back and forth to the USA as an advisor for Internet and website design in the hair industry.
While searching for information about hair extensions he found that good info was hard to find. This is when the idea was born for the Hair Extension Guide.
In January 2005 the website was launched on the Internet.

How do we work?
We are an independent company specialized in the Internet and how to present your business online in the best possible way. Unlike most other hair extension resources we are not involved with a salon or any other hair related company. We believe that it would be a conflict of interest. Do you believe that we could give you the attention that you deserve if we also owned a business that is your competitor?
We offer FREE listings and affordable ads and memberships for as low as $4.95 per month. This is less than 2 cups of coffee per month. We have something for every budget.
We want to give every salon, stylist and other hair extension related business the opportunity to present themselves to a large audience.
All our visitors share an interest in hair and hair extensions. Many of them are looking for more info and a salon to have their hair extensions done. Salon owners and stylists are searching for the latest trends and suppliers. Other stylists are searching where they can take extension classes. We have information for everyone.
What is our goal?
Our primary goal is to bring your business closer to your clients. We offer many free ways to show more about yourself. You can publish articles in our news section, you can show your work in our photo show room or in a video and much more.
It is our goal to be the first stop for everyone on their way to hair extensions. We strive to offer you all the information you need to know about hair extensions. With daily updates the Hair Extension Guide will bring you the latest news on extension techniques and other developments in the hair industry.
We do a lot of research ourselves but we also receive help from our visitors and specialists who provide us with new information and the latest trends.
Our customer service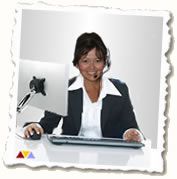 It is also our goal to give you the best possible customer service experience.
With many Internet companies it can be very difficult to speak with an actual person. We are different! Do you need help? We are here to help you.
We made it easy for you to contact us.
During business hours (Monday to Friday from 9.00AM till 6:00PM) you can call us to speak with a representative or chat with us online. You don't have to navigate through a maze of numeric options, you will be connected directly to a customer support representative. Are we all helping other customers?...leave a message and we'll get back to you the same day. You can of course also email us.
Ideas, comments, suggestions or questions? Please let us know!
We appreciate your opinion.