AdHEXive ~ The Essential New Hair Extensions
Article by Jenny Hogan of Marketing Solutions, March 2013
So.Cap. Original USA offers the latest innovation in Adhesive Hair Extensions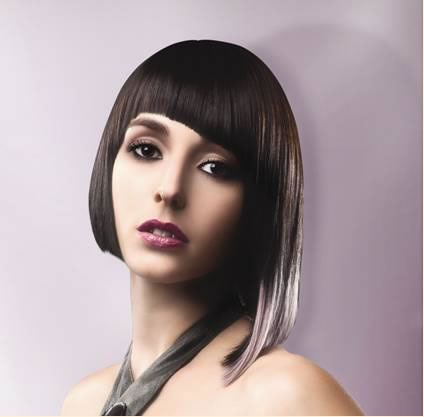 Miami, FL Now you can offer salon clients the same great looking results they get from keratin tipped extensions with no permanent commitment. The new So.Cap. Original USA AdHEXive adhesive sticker hair extensions may be applied with no equipment. Just use your fingertips! Simply wrap the adhesive hair extension around thin horizontal sections of the hair. Adhesive tape holds the hair extensions firmly in place until you or the client decides to gently remove them. The AdHEXive line is perfect for any client who is hesitant to make the commitment to bonded keratin tip hair extensions or for those who simply want a temporary look for a special event. With proper maintenance and the use of specialty hair extension products, adhesive sticker extensions will stay in place for up to two months.
The AdHEXive Difference! So.Cap. Original USA's new AdHEXive line is a fast and affordable alternative to traditional hair extensions. They are an effective way to introduce your clients to hair extensions who may be hesitant to make the investment in a full head of bonded hair extensions. The full head application time needed for adhesive hair extensions is generally less than one hour. AdHEXive hair extensions are also reusable once removed with a simple reapplication of adhesive tape. Remind your clients to always brush their hair gently to avoid accidentally pulling the adhesive tape out and straining the hair.
Special Occasion Hair Artistry: Co-owner of So.Cap. Original USA Hair Extensions, Stéphanie Veissier notes, "Adding a single strand of a fantasy haircolor to a client's hair is a fun and appealing way to introduce the hair extension line, especially for younger clientele. You could offer fun haircolor shades for any occasion including proms, graduations, weddings, Valentine's Day, seasonal holidays, sports events or any time a temporary change is desired. You may also provide your clients with chemical free highlights by adding one or multiple streaks of blonde to their hair with no damage from bleach or harsh haircolor. They are an absolutely essential hair extension for any salon owner or hairstylist to offer!"
Creative Application Options: So.Cap. Original USA Hair Extensions is the unique and exclusive distributor of So.Cap. Original in the United States. All So.Cap. Original USA Hair Extensions use the highest and finest quality 100% Remi human hair that is professionally processed in Naples, Italy with their Natural Remi Hair System, to carefully protect the integrity of the hair cuticle. Various methods of application are offered including hot fusion, cold fusion, weft application, clip-ons and adhesives. The So.Cap. Original USA Hair Extensions system includes four high quality extension choices to meet the needs of every salon professional and client. Plus, the new AdHEXive adhesive hair extension line is available for fast and easy applications. Their fun hair accessory line includes fashionable crystal and feather extensions.
So.Cap. Original USA Hair Extensions go beyond providing superior quality human hair extensions to also offering a personal touch for their valued clientele. With no middle men or formal distribution channel, salon owners and clients interact directly with So.Cap. Original USA Hair Extensions as manufacturers for reduced costs, simple purchases, faster deliveries, no-hassle customer service and personalized certification training as well as long-term mentoring and support. Hairstylists can special order the perfect professional hair extension haircolor shade, texture or fantasy extension in the afternoon and have them in time for the client's morning appointment!
THE Complete Hair Extensions System. So.Cap. Original USA Hair Extensions product offerings include the Infralight cold fusion machine, electric extension removers, flat irons, hair brushes, haircare products formulated specifically for hair extension care and in-salon marketing materials. Hands-on training and certification are offered from their Miami, FL office as well as with regional events held across the USA. Professional V.I.P. members enjoy rewards and savings with every hair extension purchase.
For more information on So.Cap. Original USA Hair Extensions, call 305-573-0901,
email Info@SoCapOriginalUSA.com, or visit www.socaporiginalusa.com.
Visit their main office and showroom at 3550 Biscayne Boulevard, Suite 506, Miami, FL 33137 USA or their West Coast office at 1750 Montgomery Street, FL1, San Francisco, CA 94111 USA, 415-954-7198.
Source:
Marketing Solutions, a full-service marketing, advertising, media relations and consulting services agency specializing in the professional beauty business. For more information, contact Marketing Solutions in Fairfax, VA at 703-359-6000. Email MktgSols@MktgSols.com or visit www.MktgSols.com.
Would you like your hair extension related article to be published on our site?
Email it for evaluation to: editors@HairExtensionGuide.com