Chromastics - Hair color tips and techniquesons
Article by Kerry Liethen of Marketing Solutions, May 2014
The future of hair color
New York, NY The benefits of modern age living are the technological advances. The rise in online education enables us to balance work and life with a more accessible and condensed teaching format. Chromastics Hair Color uses online learning to the advantage of the professional hair colorist with their library of YouTube videos on the Chromastics Hair Color website.
Master Hair Colorist Tom Dispenza Featured: In the first video installment, President and Master Hair Colorist of Chromastics, Tom Dispenza, shares a behind-the-scenes look called "Making Haircolor," addressing how blonde hair color is formulated and manufactured to ensure consistency and high quality results. This free online series of videos offer valuable quality technical and creative information by presenting easy to understand formulas, techniques and products. Chromastics offers services and products that salons and independent hair designers can afford with systems that are easy to learn. Dispenza shares, "We continually work to raise the level of understanding and awareness of hair color through educational videos."
Hair Color Weaving & Highlighting: There are several ways to achieve the desired hair color results. In the Weaving and Highlighting video, important basic step-by-step hair weave foil techniques are shared. A double weave foil, the bold weave, a horseshoe foil, balayage, ombre and slicing techniques are also covered. These techniques will help you achieve beautiful hair color results in less than fifteen minutes.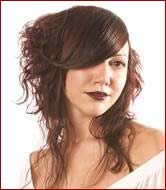 Going Red: There is a rainbow of hair color to select from today and the boldest of color comes in vibrant red. In the video, "The Progression of Dyes," Dispenza introduces the Chromastics Red Concentrate. Dispenza shares this three-part series to illustrate how a progression of hair color dyes is affected by processing time. Permanent hair color dyes require a minimum of 35 minutes to process. Anything less will not sufficiently cover grey. Processing hair for 45 minutes will allow for a richer and deeper result that will be slightly more opaque. In the second part of this series, a visual demonstration is conducted on the use of Chromastics Neutral, Green, Gold and Red Hair Color Concentrates as well as how these Concentrates will beautifully enhance your professional salon hair color services. Chromastics Concentrates will work with all oxidative hair color from any manufacturer. In the final chapter, "Softening Reds," you are taught how to progressively soften red hair color shades with a 4RO mixture while ensuring long wear ability and no off tone fading. Dispenza returns to red hair color with "Shades of Red" in another video, which covers the basics for how to create 25 shades of red with 2RO, 2RV, Gold and Red Concentrates with lightening cream. No neutral is needed for grey coverage and each shade of red is distinguished by depth and tone, considering Irish, French, Italian, Scottish and American reds.
Time Saving Hair Color: The most unfortunate part of the hair color process is the time it takes develop. With the "Color In The Bowl" video, Chromastics Hair Color gives you flexibility with extra time! Viewers learn how hair color service timing is an important factor. You can begin your Chromastics Hair Color services right away or safely wait 10 or 20 minutes before starting. Hair colorists will still achieve perfectly identical and positive results.
Breaking The Color Myths: It's all about the chemistry! In this video episode, "The Blue, Red and Yellow Myth", the basic truth about the creation of brown hair color shades with professional hair color chemistry is explained. It is not possible to create this hair color by mixing 1 part blue, 2 parts red and 3 parts yellow, whether with hair color chemistry or paint. Although it is possible to create permanent brown with Resorcinol and P-Phenylemediamine.
Creating The 'Color Of The Year': Radiant Orchid hair color artistry is already at your fingertips in your salon! To create 'Radiant Orchid', Dispenza presents a quick three minute hair color tip. He shares how to professionally achieve the beautiful purple and orchid to equal red-violet results on both light and darker hair color shades. You will learn how to create customized pastel to intense shades formulas with Chromastics. In the second part of this series on Radiant Orchid, the step-by-step makeover video shows you how to create a beautiful soft orchid glow using a twisting technique.
Editorial Notes:
For additional videos visit www.Chromastics.com For more information on Chromastics Hair Color or to register for a special regional hair color workshop, call 818-735-7375 or 877-716-2889, email Tom@Chromastics.com.

Marketing Solutions is a full-service marketing, advertising, media relations and consulting services agency specializing in the professional beauty business. For more information, contact Marketing Solutions in Fairfax, VA at 703-359-6000. Email MktgSols@MktgSols.com or visit www.MktgSols.com.
Would you like your hair extension related article to be published on our site?
Email it for evaluation to: editors@HairExtensionGuide.com