Shatush Ombré Hair Extensions
Article by Jenny Hogan of Marketing Solutions, Jan 2014
So.Cap. Original USA offers the latest style trends with two-toned blends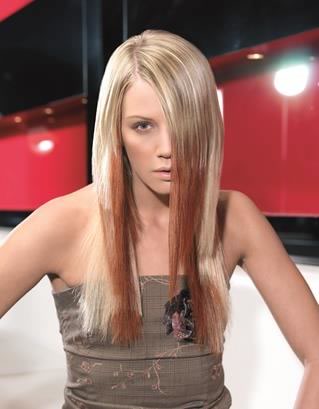 Miami, FL So.Cap. Original USA Hair Extensions is now offering the latest trend in hair artistry with their new Shatush line. Shatush features ombré hair extensions with natural looking haircolor gradations in keratin tip bonds. Now, color dimension may be achieved through hair extensions along with length and volume! Keratin tipped bi-color hair extensions come in 20" strands in packs of 25. These hair extensions may also be dyed to custom match the client's hair. Shatush comes in a straight texture with an array of haircolor choices including chestnut to light golden, light chestnut to light blonde, light chestnut to platinum blonde, light golden to golden, light blonde to golden-golden, golden-golden to light ultra blonde, mahogany chestnut to light copper blonde, black to light copper blond and black to bordeau red. Fantasy haircolors include light ultra blonde blending to red, orange, violet or blue and black blending to red, violet or blue.
Ombré Hairstyling Trends: Ombrés mimic the way summertime hair is bleached by the sun. They offer a low maintenance hairstyle that gives a casual, bohemian look perfect for both young and older clients. Carlos Collazo, educator and hairstylist for So.Cap. Original USA Hair Extensions shares, "Hair extensions will help any client achieve the latest looks. Ombrés continue to be a popular trend and will give a fresh, edgy look. Ombrés should blend in subtly towards the tip, with a gradual dropping of color. Ombré hair extensions can be worn in small pockets or all over for a dramatic effect. For a small pocket of ombré, apply hair extensions just behind one or both ears. When the hair is worn over the shoulder, you can really see the pop of haircolor! Smaller microbonds can be placed near the crown of the head for the ombré to more gradually ease in to the rest of the hair."
Ombré hairstyles can feature a smooth transition from a darker root to a lighter tip or go from a blonde root to a vibrant haircolor. Extensions may also be died to create a smooth blend into the client's natural haircolor. Ombrés are perfect for clients who want an unconventional look but don't want to commit to a certain haircolor shade or who just want a fun, temporary look. Collazo says, "As a hairstylist, you can be a lot more creative in your work by using hair extensions. You can also work much faster as a haircolorist with extensions than by adding traditional highlights or dimensional color. Hair extensions are a much easier way to color the hair than with chemical processing and are much healthier for the hair. The Ombré hair extensions also offer a form of haircolor that does not require frequent touch-ups and is really low maintenance."
Hair Extension Options: Popular new hairstyle trends include wavy hair with a very natural, carefree style. Collazo notes, "To instantly add new volume to your client's hair, add hair extensions just below the crown at the back of the head. Use a thicker hair extension, which will add body and fullness from underneath their natural hair. You can also select wavy hair extensions to add to the disheveled look." Collazo also creates bangs with microbonds, quartering an extension to form small pieces and applying them close to the scalp. With So.Cap. Original USA Hair Extensions, you can easily cut keratin bond extensions for this detailed work without experiencing the shedding common with other brands. Collazo also offers a technique for those clients who may not be able to afford a full head of keratin bond extensions, combining adhesive sticker extensions with bonded pieces. He says, "To be cost effective, use our AdHEXive tape hair extensions in combination with keratin bonds. Use the sticker hair extensions at the back of the head and place the keratin bond extensions on the sides, crown or forehead. As the side hair will be naturally thinner, the keratin bonds will be less noticeable there and the client can still pull the hair back or style naturally. The adhesive tape bonds placed at the back of the head will blend in well and provide added volume."
THE Complete Hair Extensions System! So.Cap. Original USA Hair Extensions offerings include the Infralight cold fusion machine, electric extension removers, hair brushes, haircare products formulated specifically for hair extension care and in-salon marketing materials. Hands-on training and certification are offered from their Miami, FL office as well as with regional events held across the USA. Professional V.I.P. members enjoy rewards and savings with every hair extension purchase.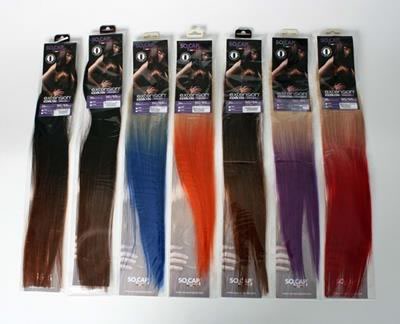 For more information on So.Cap. Original USA Hair Extensions, call 305-573-0901,
email Info@SoCapOriginalUSA.com, or visit www.socaporiginalusa.com.
Visit their main office and showroom at 3550 Biscayne Boulevard, Suite 506, Miami, FL 33137 USA or their West Coast office at 1750 Montgomery Street, FL1, San Francisco, CA 94111 USA, 415-954-7198.
Source:
Marketing Solutions, a full-service marketing, advertising, media relations and consulting services agency specializing in the professional beauty business. For more information, contact Marketing Solutions in Fairfax, VA at 703-359-6000. Email MktgSols@MktgSols.com or visit www.MktgSols.com.
Would you like your hair extension related article to be published on our site?
Email it for evaluation to: editors@HairExtensionGuide.com