Extend, Explore, Expand Your Career!
Article by Jenny Hogan of Marketing Solutions, May 2013
So.Cap. Original USA Hair Extensions - Discover creative career growth opportunities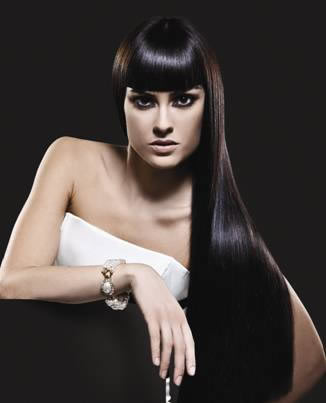 Miami, FL Now you can offer salon clients the same great looking results they get from keratin tipped extensions. You will bring in an exciting new revenue stream, build clientele and advance your cosmetology career by becoming a certified hair extensionist. So.Cap. Original USA Hair Extensions makes it easy for hairstylists today to create new niche services that clients love. Carlos Collazo, head educator for So.Cap. Original USA Hair Extensions says, "The old saying is 'work smarter, not harder'! Your gross annual income will almost double as a hair extensionist. Just do the math. In our professional certification classes we review pricing, consultations, how to order the products and what to expect with client maintenance visits. If you have just one new client a month and charge approximately $1,000 for the hair extension service, you will earn an additional $12,000 each year. If your new clients come back just once for a retouch in a year, then that becomes an additional $12,000."
Hair Extension Certification: So.Cap. Original USA Hair Extensions offers regular hands-on certification workshops in their Miami, FL headquarters and will travel on site for a larger salon group across the USA. Collazo notes, "The first half of our class is theory. You will then learn the basics of hair extension applications in just one day. A variety of professional application methods are offered including clip-in, weft and keratin tip bonds. You will learn about the best hair extensions techniques as well as the do's and don'ts of applications for keratin tipped bonds. We review how to effectively section the hair, use haircolor, how to style the hair and how to resolve common challenges."
The So.Cap.Original USA Difference! The most important part of practicing the various hair extension application methods is to learn the proper placement of the pieces and how to avoid damaging the hair. Collazo says, "You should spread the hair extensions out evenly over the head. Do not apply the bond too closely to the scalp to avoid irritation. The best way to avoid damaging the hair is not to overheat while bonding, which may burn the client's hair. Do not let the bonds start to sizzle or bubble." So.Cap. Original USA Hair Extensions offers safe heated application tools as well as the Infralight system, which melts the keratin at a lower temperature for flawless applications. The hair extensions may be applied by folding or rolling the bond around sections of the hair. Collazo shares, "The So.Cap. Original USA Hair Extensions are easy to apply and are very mendable, if you need to adjust them. They attach to the hair very well and last a long time; usually between 3 to 6 months depending on the proper home care maintenance and hair growth. They do not over-process the hair when lifting and depositing haircolor. As a result, the quality of their hair stays optimal." The finest 100% human Remi hair is used for the So.Cap. Original USA Hair Extensions that are professionally processed in Naples, Italy.
So.Cap. Original USA provides a wide selection of haircolor shades and textures. Matching the client's haircolor and texture of their hair, cutting the hair after application and blending them in naturally are very important things to learn. So.Cap. Original USA Hair Extensions offers a new line of adhesive sticker hair extensions that promise to be a great introduction for clients who may not want to commit to bonded keratin tip extensions. Collazo shares "For those clients who have fragile hair; hair extensions are the perfect choice for offering haircolor and highlights without chemical services. It takes less time than haircolor. You do not need to bleach the hair or recolor, if it is not even. You will share the same effects as a haircolor service, without drying out their hair. Clients can try new and fantasy haircolor shades like purple and pink with just a few extensions. You will be able to create the popular 'Ombre' look by using two haircolor tones on the extensions. You can add on length and fullness while also adding haircolor for the client and it's the quickest way to provide these results."
For more information on So.Cap. Original USA Hair Extensions, call 305-573-0901,
email Info@SoCapOriginalUSA.com, or visit www.socaporiginalusa.com.
Visit their main office and showroom at 3550 Biscayne Boulevard, Suite 506, Miami, FL 33137 USA or their West Coast office at 1750 Montgomery Street, FL1, San Francisco, CA 94111 USA, 415-954-7198.
Source:
Marketing Solutions, a full-service marketing, advertising, media relations and consulting services agency specializing in the professional beauty business. For more information, contact Marketing Solutions in Fairfax, VA at 703-359-6000. Email MktgSols@MktgSols.com or visit www.MktgSols.com.
Would you like your hair extension related article to be published on our site?
Email it for evaluation to: editors@HairExtensionGuide.com