Effortless Summer Haircare
Press release by Jenny Hogan of Marketing Solutions, May 2015
Truly Seamless Adhesive Hair Extensions From Thicken It Studios Are Perfect For Summer!
Coral Springs, FL This summer, pamper your clients' hair with the best healthy haircare products and truly seamless hair extensions. Summer weather can be harsh on the hair with UV sun damage, chlorine, salt water and windy days on the beach. Help your clients protect their hair and prevent summer damage with professional haircare products and some extra TLC. Chris Martin, co-owner of Thicken It Hair Studios recommends their Truly Seamless adhesive hair extensions for even the most vigorous summer activities. Martin says, "Our tape-ins are ultrathin, lightweight, mobile and undetectable as they lay flat against the head. They move with your hair. If the wind blows your hair up, your extensions will be completely invisible. They will allow for swimming or any outdoor summer activity."
Truly Seamless Hair Extensions: The secret to the natural look and feel of Thicken It Studios adhesive hair extensions is their concept of the tape in extension. They recreated the mechanics of the tape-in hair extension, using a special double sided medical grade tape. The tape is used on top of a thin skin weft that allows the hair to be supported on the top and bottom as opposed to the traditional sandwiching method. Co-owner Maria Savarese says, "While most tape-ins will last up to 6 weeks, the Thicken It System can safely be worn up to 12 weeks. They can also be reused up to three times, allowing for fewer salon visits and upkeep – a welcome summertime bonus!" The extensions are removed with an all-natural remover that breaks down the tape compound, allowing you to slide the hair gently out, without pulling or damage.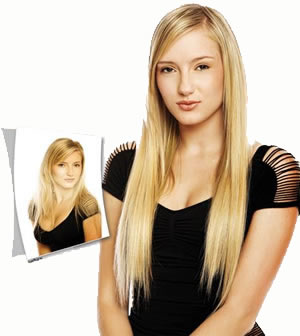 Extra Summer TLC Haircare: Advise your clients to wash their hair less often in the summer, as frequent washing strips the scalp of its natural oils. In between washes, use a dry shampoo with all natural ingredients to go a bit longer. Clients should try to use blow dryers or other hot tools less often in the summer as they can easily air dry the hair this season. Regular daily conditioning is a must with a deep conditioning treatment once a week for extra hydration. Recommend professional products with UV protection to extend summer haircolor and highlights. A stylish hat is always a smart summer option to keep hair from oxidizing in the sun.
Summer Haircolor: For the healthiest hair this summer, avoid chemical haircolor and use adhesive or clip-in hair extensions instead! Martin says, "Hair extensions are not just for length and volume. They can be used instead of haircolor or highlights. This is a much healthier way to have great haircolor all year round. If you have damage from past haircolor or chemical services, our hair extension lines are a great way to allow your hair to recover and rejuvenate. With our hair extension system, you will have actual hair growth while you're wearing the extensions, as opposed to any potential damage." Martin's mother is a success story, as she recovered from thinning and damaged hair while wearing Thicken It extensions and now has healthier hair than ever! Savarese adds, "Our Thicken It Scalp Coverage Powders are an all-natural product for fine or thinning hair that helps cover the scalp and hair regrowth. It is made of cotton fiber that is infused with color pigment that does not come out of the hair until you shampoo; so you can wear it in the pool or ocean in the summertime! Thicken It is talc-free and gives 100% gray coverage. It is great for filling in thin spots, or perfect for those in between haircolor times."
Professional Haircare Line: Thicken It Studios offers several professional haircare products for the best client results and great retailing opportunities. Their Moisture Plus Shampoo is a gentle moisturizing shampoo enhanced with pure plant extracts for gentle and complete cleansing of dry and fine hair. A generous lather restores life, moisture, bounce and body, leaving hair clean, vibrant and full of energy. Their Moisture Plus Conditioner is a moisturizing remedy for combating the dry effects of the environment. Keratin proteins specifically repair hair by providing moisture and sheen to damaged and moisture deprived hair. Their Ultra Violet Conditioner was developed to be used interactively with color enhancing shampoos. It adds brilliant color and can also be used as a deep color enhancement conditioning treatment, leaving hair healthy with shine and body. The In'Between Dry Shampoo is a hair volumizer and hair deodorizer. In'Between will give hair a freshly showered look and smell, and it will also increase the volume of hair by ten times! In'Between contains all natural ingredients and does not contain any talc.
For more information contact:
Thicken It Studios at 7551 Wiles Road, Suite 105, Coral Springs, FL 33067 USA
Call 917-648-2207 or email Info@ThickenIt.com.
www.ThickenIt.com
Source:
Marketing Solutions, a full-service marketing, advertising, media relations and consulting services agency specializing in the professional beauty business. For more information, contact Marketing Solutions in Fairfax, VA at 703-359-6000. Email MktgSols@MktgSols.com or visit www.MktgSols.com.
Would you like your hair extension related article to be published on our site?
Email it for evaluation to: editors@HairExtensionGuide.com