Supersize Thin & Aging Hair With Hair Extensions
Article by Jenny Hogan of Marketing Solutions, September 2013
So.Cap. Original USA Hair Extensions give mature clients thicker, voluminous results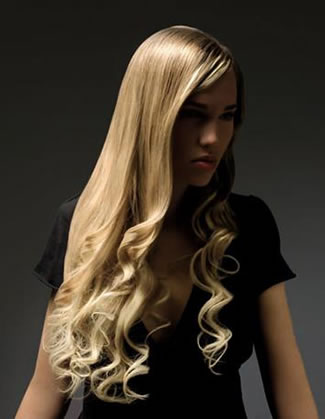 Miami, FL Supersizing your soda or fast food order may not be a healthy idea, yet supersizing your hairstyle will always be great for you! Clients with thin or aging hair will get immediate results with hair extensions, as they will instantly add new volume and thickness in addition to color and length. Fifty percent of women will experience thinning hair by middle age. Many women will also have thinning hair due to years of chemical damage or over-styling of the hair. Carlos Collazo, educator and hairstylist for So.Cap. Original USA Hair Extensions shares, "Hair extensions are the perfect solution to add exciting new volume to your clients' hair. They are great for adding fullness to shorter hairstyles, like bobs. Extensions also allow women to get instant highlights or lowlights for added dimension, which makes hair appear thicker without any chemical damage from haircolor."
So.Cap. Original USA Hair Extensions offers a variety of hair extension lines with an array of haircolor shades, textures, lengths and application methods. Collazo notes, "To add volume to thin and thinning hair, I add extensions to the back of the head, just below the crown at the occipital bone. If the hair is thin at the front, your application needs to be carefully placed or you will see the perimeter. Bond placements should be close together, about an inch from the edge of the hairline. The keratin bonds will need to be cut into half or into quarters, creating microbonds." Collazo selects a thicker hair extension such as the Elegance line from So.Cap. Original USA, which adds beautiful fullness from underneath the hair, recommending a wavy hair extension for added volume.
Volumizing Hairstyles: For mature clients, a longer bob at shoulder length will add volume, with sides that are angled and slightly layered. Shorter hairstyles will be more flattering, as length tends to weigh thinner hair down. Highlights and lowlights created with hair extensions will provide depth and fullness, without the damage that chemical haircolor inflicts on thinning hair. Senior clientele are also good hair extension candidates. Collazo has applied extensions to clients as old as 75. "For seniors with thinning hair, I use microbonds and apply them close together. I might use thicker bonds for the nape of the neck, using smaller ones at the sides so they are not visible. For clients with silver or grey hair, I use a silver platinum shade, adding a grey toner for additional shades. Older clients are good hair extension candidates as they have the time for maintenance, as long as they are not too attached to setting and teasing their hair in a traditional way."
Volumizing Haircare: Always advise your clients to use professional products designed expressly for thinning hair and hair extension maintenance products. Recommend a sulfate-free shampoo, thickening shampoo and a light conditioner. Collazo shares, "Use very little conditioner if their hair is thin. Just a light spray conditioner will be good. Mousse works well to create fullness. A scalp tonic will help to unclog pores and stimulate follicles, along with a gentle finger massage. For fine hair, avoid shine or oil products and use a hairspray that helps to shape lightly." Clients should be provided a complete haircare consultation to share details for their hair extension maintenance program. You will need to first determine if they are good candidates for hair extensions. If thinning hair is caused by a medical condition or is too advanced, the client will need to be advised to seek medical advice or treatments. If their hair is simply becoming finer or thinner due to age, you will be able to successfully apply hair extensions as long as their hair is strong enough to support the bonds. Clients with chemical damage will even enjoy healthier hair after their natural hair gets a chance to rejuvenate and regrow underneath their extensions. If properly applied and maintained, hair extensions will not damage the hair. Your clients will have the same natural hair after removal.
THE Complete Hair Extensions System! So.Cap. Original USA Hair Extensions offerings include the Infralight cold fusion machine, electric extension removers, hair brushes, haircare products formulated specifically for hair extension care and in-salon marketing materials. Hands-on training and certification are offered from their Miami, FL office as well as with regional events held across the USA. Professional V.I.P. members enjoy rewards and savings with every hair extension purchase.
For more information on So.Cap. Original USA Hair Extensions, call 305-573-0901,
email Info@SoCapOriginalUSA.com, or visit www.socaporiginalusa.com.
Visit their main office and showroom at 3550 Biscayne Boulevard, Suite 506, Miami, FL 33137 USA or their West Coast office at 1750 Montgomery Street, FL1, San Francisco, CA 94111 USA, 415-954-7198.
Source:
Marketing Solutions, a full-service marketing, advertising, media relations and consulting services agency specializing in the professional beauty business. For more information, contact Marketing Solutions in Fairfax, VA at 703-359-6000. Email MktgSols@MktgSols.com or visit www.MktgSols.com.
Would you like your hair extension related article to be published on our site?
Email it for evaluation to: editors@HairExtensionGuide.com