Offer Hair Loss Clients New Options With Hair Now
Press release by Jenny Hogan of Marketing Solutions, July 2015
Thicken It Studios Line of Hair Toppers Offers Men & Women Healthy Hair Solutions
Coral Springs, FL Hair Now is Thicken It Studios' line of professional Hair Toppers for men and women. Hair Now was designed for those individuals who are experiencing thinning or complete hair loss on the top or back of the head. The hair is re-useable and hand made with a light lace closure for maximum breathability. All Toppers are made with the highest quality human Remy hair for the most natural results and come in small and large sizes for more head coverage. When used in conjunction with the Thicken It Studios line of Truly Seamless Extensions, Hair Now can give your clients long, healthy, beautiful looking hair today!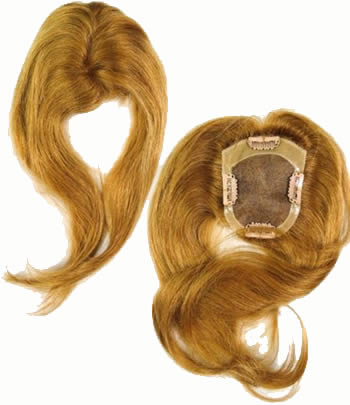 Thicken It Studios President Christopher Martin says, "Our line of Hair Toppers feature amazing coverage for thin, thinning or no hair clients. They are another effective option you can have ready to provide full service for any salon client." Hair Now Toppers come in several different styles and haircolor shades. They are applied to the scalp and then cut to fit your client's style, lasting 6 to 8 weeks. Color choices include off black, dark brown, medium brown, light brown, dark mixed blonde, light mixed blonde, warm red and blonde bombshell in wavy, straight or curly options. Hair Now is re-usable for up to three applications.
Thicken It Studios Vice President Maria Savarese says, "Many women use our professional haircare products to simply enhance their own beauty. Yet it is so rewarding to get letters and photos of women who use our products for thinning hair or hair loss. When you are able to offer someone an instant transformation such as with our line of toppers, it is the best feeling knowing you have helped someone. I see the difference when they walk in the salon with their head down and walk out with their head held high. Then I walk with my head held high too!"
Thicken It Studios offers a full line of healthy hair solutions, consisting of Truly Seamless Tape-In Hair Extensions and Truly Seamless Clip-On Hair Extensions and more.
For more information contact:
Thicken It Studios at 7551 Wiles Road, Suite 105, Coral Springs, FL 33067 USA
Call 917-648-2207 or email Info@ThickenIt.com.
www.ThickenIt.com
Source:
Marketing Solutions, a full-service marketing, advertising, media relations and consulting services agency specializing in the professional beauty business. For more information, contact Marketing Solutions in Fairfax, VA at 703-359-6000. Email MktgSols@MktgSols.com or visit www.MktgSols.com.

Would you like your hair extension related article to be published on our site?
Email it for evaluation to: editors@HairExtensionGuide.com