Limitless Haircare Options For Unlimited Clientele
Press release by Jenny Hogan of Marketing Solutions, June 2015
Grow Your Business With The Thicken It Studios Line of Healthy Hair Extensions
Coral Springs, FL No matter why you entered the professional beauty business, if you are a working hairstylist or salon owner you are undoubtedly working hard to earn a living. That makes it a business, and there are only two ways to grow a business. You can increase the number of clients or increase the amount each client spends. Many professionals are challenged when it comes to growing a client base, which makes it more important to find opportunities with the clients they already have. Chris Martin and Maria Savarese are co-owners of Thicken It Hair Studios which professionally produce Truly Seamless adhesive and clip-in hair extensions. They focus on educating hairstylists and salon owners in growing their client base and boosting business revenue by offering healthy hair solutions to every client.
Unlimited Clientele: Many salons are opening a new door for added revenue and profitability with hair extensions, hair toppers, scalp coverage powders and haircare maintenance product lines. Savarese says, "Independent hair designers and smaller salons who may not have the large staffs to accommodate traditional hair extension applications can now offer these lucrative services. Any salon can easily benefit. Hair extensions are not just for length. You can use them to safely create haircolor, highlights or lowlights without chemical services, use them on short hair to elongate the sides of a bob or to create added volume and body for fine, thin, thinning or damaged hair. Every person in your chair is a potential hair extensions client!"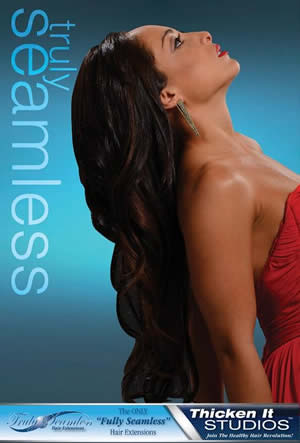 Open A Dialogue: Consultations are key when it comes to building a hair extension clientele. If you are not already conducting regular client consultations, begin now! Explain to regular clients that you are expanding your services and want to offer added value with healthy hair options like hair extensions. During the consultation, cover the basics by having clients rate the condition of their hair, their current haircut, haircolor and hairstyle. List their specific challenges or concerns and rate the effectiveness of their past treatments and products. Ask creative questions and have them describe what they want their hair to say about their personality. This will open a dialogue with clients on how to achieve their own vision of what they can become.
Show The Possibilities: Part of your role during the consultation is to create self-awareness and help your clients to see the possibilities for their hair and their total image. With hair extensions any look is possible for clients, even for those with thinner or damaged hair. When you educate clients on the flexibility of hair extensions they may discover some options they didn't even know they had! Then, when you are making your recommendations to them, you can share how their new look displays their personal vision, perhaps to look more youthful, more polished, more natural or more sexy! Don't worry about your clients turning down your service or product recommendations at the consultation. Often, you are just planting a seed for having the service at a later date.
Hair Extensions Are Safe For All Clients: You can now confidently recommend hair extensions for any client, including those with thin, thinning or damaged hair. This makes the perfect solution for older clients or any client recovering from chemical damage from haircolor. Martin says, "If you have damage from past haircolor or chemical services, our hair extension lines are a great way to allow your hair to recover and rejuvenate. With our hair extension system, you will have actual hair growth while you're wearing the extensions, as opposed to any potential damage." Martin's own mother is a success story, as she recovered from thinning and damaged hair while wearing Thicken It extensions and now has healthier hair than ever! Thicken It Studios essentially recreated the concept of the tape-in and clip-in hair extension to create a truly seamless extension that does not weigh down or damage hair.
Healthy Hair Solutions: Thicken It Studios offers a full line of healthy hair solutions, consisting of Truly Seamless Tape-In Hair Extensions and Truly Seamless Clip-On Hair Extensions. Hair Toppers for both women and men feature amazing coverage for thin, thinning or no hair clients. They also offer Thicken It Hair Powders with 100% scalp/grey coverage and Hair Toppers for both women and men, which feature amazing coverage for thin, thinning or no hair clients. Thicken It also offers a haircare line including Moisture Plus Shampoo and Conditioner, Ultra Violet Conditioner and In'Between Dry Shampoo.
For more information contact:
Thicken It Studios at 7551 Wiles Road, Suite 105, Coral Springs, FL 33067 USA
Call 917-648-2207 or email Info@ThickenIt.com.
www.ThickenIt.com
Source:
Marketing Solutions, a full-service marketing, advertising, media relations and consulting services agency specializing in the professional beauty business. For more information, contact Marketing Solutions in Fairfax, VA at 703-359-6000. Email MktgSols@MktgSols.com or visit www.MktgSols.com.
Would you like your hair extension related article to be published on our site?
Email it for evaluation to: editors@HairExtensionGuide.com