The Essential Extension For Healthy Hair
Press release by Jenny Hogan of Marketing Solutions, April 2015
Thicken It Studios Introduces The Truly Seamless Non-Damaging Adhesive Hair Extensions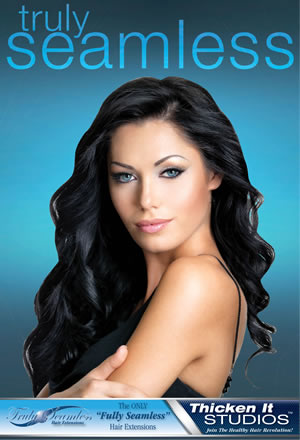 Coral Springs, FL The concept behind the Thicken It Studios brand is to provide healthy hair solutions for every salon client. Thicken It Studios offers Truly Seamless Hair Extensions using a proprietary medical grade tape system for adhesive application that is non-damaging and perfect for thinner, more delicate hair. Thicken It Studios Truly Seamless brand of hair extensions only uses top quality double drawn Remy hair that lasts up to 12 weeks of wear before re-application and is re-usable up to three times. Thicken It Studios offers a full line of healthy hair solutions, consisting of Truly Seamless Tape-In Hair Extensions and Truly Seamless Clip-On Hair Extensions. They also offer Thicken It Hair Powders with 100% scalp/grey coverage and Hair Toppers for both women and men, which feature amazing coverage for thin, thinning or no hair clients.
The Thicken It Studios Difference! Owners Christopher Martin and Maria Savarese saw an opportunity to bring a special new hair extension system to the professional salon market that did not damage the hair. Martin had developed the earlier system, working to brand Thicken It as a healthy hair innovation. Savarese joined to help with sales, branding and business development. The line was developed to include topical powders for gray hair root coverage as well as scalp coverage for thinning hair with their clip on extensions and hair toppers. Martin says, "Our one goal is to offer a hair extension that does what it's supposed to do! We proudly stand behind our business and all of our products. They do exactly what they say they do. They are fast, easy and affordable solutions for every sized salon to incorporate."
New Opportunities: Many salons are opening a new door for added revenue and profitability – with hair extensions and hair powders!" Independent hair designers and smaller salons who may not have the large staffs to accommodate traditional hair extension applications can now offer these lucrative services. Savarese shares, "Any salon can benefit. Hair extensions are not just for length. You can use them to safely create haircolor, highlights or lowlights without chemical services, use them on short hair to elongate the sides of a bob or to create added volume on fine or thinner hair. Every person in your chair is a potential hair extensions client." With retail products to complement the Thicken It Studios Hair Extension system; salons can further increase sales and provide added value. Thicken It offers a variety of hair powders, dry shampoo, clip-on extensions, wet brushes and flat irons for added retail revenue.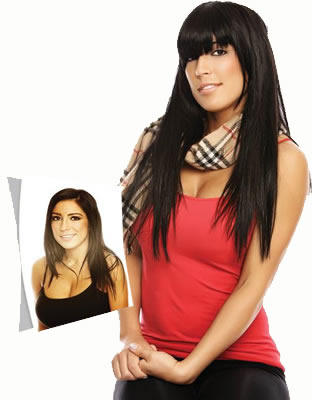 Truly Seamless Hair Extensions: When Thicken It Studios first launched their initial line of professional salon hair extensions, there were plenty of other extensions on the market. Yet, they recreated the concept of the tape-in hair extension, using a double sided medical grade tape on top of a thin skin weft that allows the hair to be supported on the top and bottom as opposed to the traditional sandwiching method. Martin says, "There is absolutely no tension damage to the hair. Our tape-ins are ultrathin, lightweight, mobile and undetectable as they lay flat against the head. They move with your hair." While most tape-ins will last up to 6 weeks, the Thicken It System can safely be worn up to 12 weeks. They can also be reused up to three times, allowing for fewer salon visits and upkeep. The extensions are removed with an all-natural remover that breaks down the tape compound, allowing you to slide the hair gently out, without pulling or damage.
Healthy Clip-On Options: The Thicken It Studios team went on to develop a clip-on line of hair extensions created on a thin skin weft, as opposed to the traditional hand sewn weft that adds weight and bulk. The Clip-On system uses three ounces of hair in variable size strips including 9", 6", 4", and two-3" wide strips. Savarese says, "Our hair clip-on hair extensions are uniquely different! The seamless system is superior and is evident to both the hairstylist and to the wearer with lighter, healthier and more natural looking hair extensions. Clip-On systems are perfect for clients who don't want to commit to wearing semi-permanent extensions and who may only want to wear extensions for a special occasion or just to try them out!"
Free Education: Thicken It Studios firmly believes in free education. Salon professionals may have spent $3,000 or more to become certified in other hair extension systems. Many other systems are expensive, time consuming and complicated to apply. Hairstylists see how simple the Truly Seamless system is and they quickly learn they can increase their appointment books four-fold after just a two-hour certification class. The hair extensions do not take hours to apply and they will immediately add value to any toolbox of salon services.
Thicken It Studios has built their reputation on quality, exclusive products, customer service and transparency. Martin says, "We offer superior client service and timely order fulfillment. We live and love this business. We are passionate about our products and always stand behind them." Savarese adds, "We have worked very hard to build the business and get our company where it is today. Our Thicken It Systems are well established and we are ready for continued growth!"
For more information contact:
Thicken It Studios at 7551 Wiles Road, Suite 105, Coral Springs, FL 33067 USA
Call 917-648-2207 or email Info@ThickenIt.com.
www.ThickenIt.com
Source:
Marketing Solutions, a full-service marketing, advertising, media relations and consulting services agency specializing in the professional beauty business. For more information, contact Marketing Solutions in Fairfax, VA at 703-359-6000. Email MktgSols@MktgSols.com or visit www.MktgSols.com.
Would you like your hair extension related article to be published on our site?
Email it for evaluation to: editors@HairExtensionGuide.com