Viva Femina Hair Extensions
Press Release by Rasa of Viva Femina, May 2013
Are you on the top on the hottest industry yet?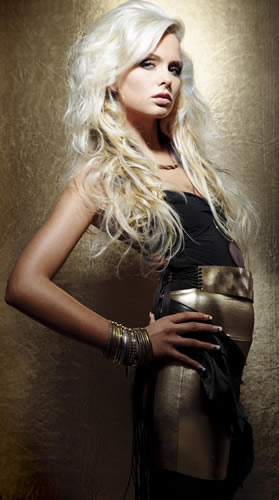 Viva Femina has conducted extensive research to determine the most reliable, highest quality techniques in hair extensions and made it their priority to remain on top of the latest breakthroughs.
They offer several methods of hair extensions attachment, and are dedicated to providing with the best hair possible. Their 100 % human hair extensions are made from only the healthiest and most youthful European Remy and Indian Temple hair. Each strand is handpicked to ensure all cuticles are properly aligned, and all hair goes through a strenuous quality control process to guarantee exceptional value.
Wheter you're looking for classic, like fusion hair extensions, or the newest techniques on the market, reap the benefits of the industry experts - Viva Femina Hair Extensions - for thicker, fuller, tangle free hair extensions with a striking shine - sure to satisfy even the most demanding customer!
One of the latest and greatest advancements in hair extensions - pre-taped hair. Ideal for somebody with thinning hair or for somebody who just wants to add lenght, volume or simply add highlights or colorlights. This method is super quick to attach - application time is 30 minutes to 1 hour, and the results are beautiful and undetectable extensions, that are very comfortable to wear and very discreet.
Specially made double sided tape is used to attach hair extensions to the clients hair allowing them to sit naturally flat against the head with no visible signs of modification to the natural hair. The extensions can last four to eight weeks or longer before re-application is needed, and are reusable, making this product a cost-effective possibility for anyone! Viva Femina offers special tape for re-application.
Making sure you as a stylist are up to date on everything you need to know about hair extensions will ensure that you provide the right services to your clients. Helping someone choose the right hair extensions and application method will guarantee that stylists see repeat business, which is why Viva Femina provides Customized Classes, Training Kits are available online as well as Educational DVD. So expand your knowledge, potential, and your ways as a great hair stylist to earn the most income your career has to offer. Whats more, the ability to add hair extensions to your own list of services will automatically elevate the reputation of your business by offering a sophisticated service to your clients.
For more information on Viva Femina Hair Extensions, call 1-800-892-8188,
or visit www.vivafemina.com.
Would you like your hair extension related article to be published on our site?
Email it for evaluation to: editors@HairExtensionGuide.com