Di Biase Hair USA
Profile
Product info
Videos
Comments/Reviews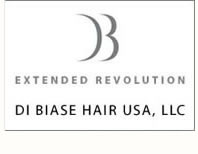 Name
:
Di Biase Hair USA, LLC
Address
:
38455 Hills Tech Drive, Suite 200
Farmington, Michigan 48331
USA
Phone
:
1-248-489-8900
Email
:
Info@DiBiaseHairUSA.com
Website
:
www.dibiasehairusa.com
Hours
:
Not specified
Products
:
fusion extensions
clip- in extensions
sticker hair
weft extensions
hair extension tools and accessories

hair extension training
About Di Biase Hair
Di Biase Hair USA owners Vikki Parman and Dale Aho represent a 3rd generation Italian company Di Biase Hair of Italy. They use only the highest quality 100% Human Indian Remy hair available today.
Easy Clips | Sticker Hair | Fusion Hair
Easy Clips

Di Biase Hair offers a wide range of weft hair with changable width.
The hair length is 20/21".
Full head set
They also offer a full head set that is composed of 5 pieces.
For the back 1 weft with 5 clips, 1 weft with 4 clips and 1 witf 3 clips.
For the sides are 2 wefts with 2 clips.

Sticker Hair

With sticker hair you don't need any special equipment. All you need for application is a little pressure from your fingers.
By replacing the adhesive tape you can reuse these extensions multiple times.
Sticker hair comes in packages of 6 wefts with the adhesive tape pre-attached.
Colors: Available in 34 colors.
Lasts: It will last about 1 to 2 months.
(See demo video on video's tab)

Fusion Hair

Fusion hair is applied on a lock by lock basis. Extensions come in packs of 20 locks, with a lock consisting of multiple strands of remy hair joined together by a thin keratin bonding strip. The stylist will individually attach each lock to the client's hair through use of heating pliers (hot tool) applied to the keratin bond. Fusion extensions should last approximately 4-6 months and will eventually need to be replaced as the normal hair grows out.
Available in 49 colors
Di Biase Sticker Hair Extensions