Klix Hair Extensions
Profile
Product info
Classes/Education
What's New
Comments/Reviews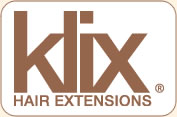 Name
:
Klix Hair Extensions Inc.
Phone
:
1-877-289-5549
Fax
:
248-291-5291
Email
:
info@klixhair.com
Website
:
www.klixhair.com
Klix salon locator
:
www.klixhair.com/salon-locator
Office Hours
:
Monday – Friday 9am to 5:00pm Eastern Time
Products
:
Klix hair extensions (weft)

Hair Extension classes
About Klix
Klix was invented by two Michigan hair stylists who jointly had been doing hair extensions for more than 30 years. It was their goal was to develop extensions that were fast and easy to apply. In addition it had to be non-damaging, easy to wear, and moveable.
A full head of extensions can be done in 60 minutes or less! Klix application requires no heat, no glue, no tape, and no removal chemicals.
The United States Patent Office has awarded Klix Hair Extensions U.S. patent numbers 7,753,057 B2 and 8,336,559
Klix Hair international
Since Klix Hair introduced their patented hair extensions their market share has been growing in the USA and overseas.
Klix Hair is now also available in Puerto Rico and recently they have signed a deal with a distributor in South Africa.
Klix NEWS - An Introduction to Klix Hair Extensions
Klix Hair Extensions now offers monthly webinars via Zoom.com. Current dates scheduled are August 23 and September 13 from 9:00 pm to 10:00 pm Eastern Time. If you have any questions call: 877-289-5549.
To participate you need to join Zoom, via the following link: https://zoom.us/j/3483748767

KlixTENSIONS
KlixTENSIONS are made from the finest quality 100% virgin Remy human hair with the cuticle left intact.
Each strand is individually hand threaded onto a skin like weft, maintaining the hair's natural cuticle direction.
The weft is attached to your hair with silicone lined micro-links.
The application can be done within 1 hour and removal in about 10 minutes.
Every 4 to 6 weeks a 30 minutes re-touch.
(Micro links are opened and the weft is moved closer to the scalp and micro links are closed again)
Lasts 4 to 6 months with proper maintenance.
Length, Colors and Textures
- klixTENSIONS come pre-packaged in single, duo and trio color options. Available in 14 colors.
- It is available in straight and body wave.
- Available in 18" and 22" lengths.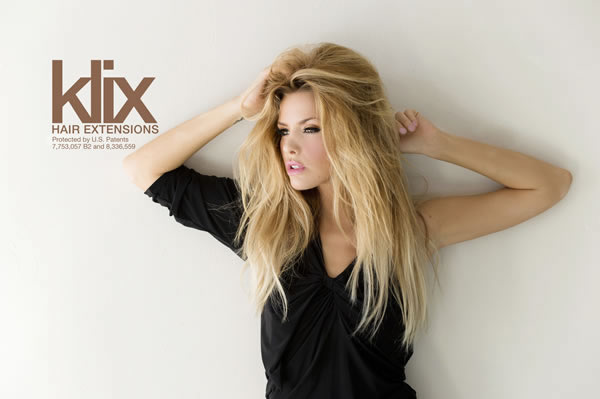 Klix Certification Classes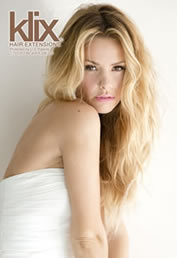 In just one day you can become a certified klixTENSIONIST!
We offer classes in the following locations:
Danville, CA
Fort Lauderdale, FL
Ferndale, MI
Dallas, TX
Houston, TX
San Antonio, TX
Chicago, IL
Metairie, LA
Beverly Hill, CA
Nashville, TN
Klix certification course
In a one day class you can become a certified Klix extensionist (klixtensionist).
You need to bring your own model to class.
You will receive a Klix kit that includes:
One full package of 18" klixTENSIONS that you will apply to your model during class. Please note that you need to bring your own model to class.
One klixPAX – a sample package of klixTENSIONS which is a great sales tool.
Klix color swatch ring.
Opening and closing tools.
Pulling needles.
Klix Comb Klips – 4 pc. set in a zip up case (clip to your tray to hold Klix Hair Extensions).
KlixSTIX – used as a link filler if needed (klixSTIX is not a glue).
Klix messenger-type bag with pockets for all of your tools and hair.
Klix cutting cape.
Klix alligator clips – 4 pc. set
Klix User's Guide.
Instructional DVD – great to use for a refresher course.
Promotional DVD – to play in your salon.
Free downloadable and customizable pre-designed marketing materials.
Marketing materials: Client pamphlets, pamphlet holder, mirror and door decals.
Your own personal Klix ID# which grants you access to our "klixTENSIONIST's Only" website and Facebook page.
Five hour hands on training course. (Class length is approximate and may vary depending on class size and learning curve)
Pricing and revenue scenarios.
Free listing on the Klix Salon Locator.
Klix also travels to your salon for a private class for a minimum of 5 stylists.
For more information call us at 877-BUY-KLIX (877-289-5549) M-F from 9am to 5pm Eastern time.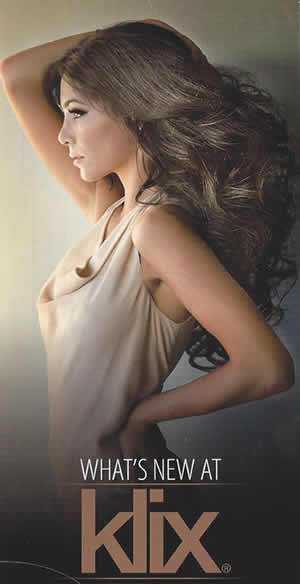 What is new at KLIX
New products
Colors
We are happy to share our three new colors with you and we've added a twist to the new Duo colors by alternating them every 1/4" instead of our normal 1/2". We can't wait to get your feedback!
New Pulling Needles
Our new pulling needles are made entirely of metal. We will offer them as a two piece set; one handle with two hooks.
The cost for a set is $10.
New Marketing
Klix is now on Instagram!
Following us on social media is a great way to stay up to date on our company news.
You may have noticed that our Facebook page has changed from a personal page to a business page. Please be sure to "like" us and we will "like" you back.
Connect with us at: Instagram.com/KlixHair and Facebook.com/KlixHair
Social Media Contests
Klix will be hosting an array of social media contests where you'll have a chance to win great prices. We'll be giving away a free package of Klix Hair Extensions, accessories, tools, Klix swag and more.
How to enter:
- Follow us on Instagram and Facebook
- Take photos of your beautiful Klix Hair Extension work
- Tag them with our official hashtag (#KlixHairExtensions) on social media
- For Instagram, share your photo with the official hashtag
- For Facebook share your photo on out Facebook business page
- And that's it. You are automatically entered to win.
Every new photo shared earns you an entry. The more you share the more chances you have to win.
Refer a friend and earn KlixBux!
Refer a stylist to sign up for any of our Klix certification classes and earn $50 in klixBUX.
Education
Klix is happy to welcome Christopher Gill to our family of educators.
Christopher is an expert and is passionate about hair extensions. He owns The Beauty Box Salon in Dallas, Texas. His enthousiasm for the industry, sincere personality and exceptional marketing skills have left klixTENSIONISTs excited to share their new skills with their clients.