LaBella Hair Extensions
Profile
Classes/Education
Educational video
Comments/Reviews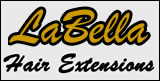 Name
:
LaBella Hair Extensions
Address
:
443 S. Washington Avenue
Piscataway, NJ 08854
USA
Phone
:
1-908-231-0720
Email
:
info@LaBellaHairExtensions.com
Website
:
www.labellahairextensions.com
Hours
:
Not specified
Products
:
Keratin Tip hair extensions
I-Tip hair extensions
Micro-loop compression hair extensions
Hair Extension Kits
Hair Extension Tools & accessories

Hair Extension education and certification
About LaBella
LaBella wholesales their extensions and supplies to hair salons and licensed stylists nationwide. They provide training and certification at their New Jersey location. In addition LaBella offers nationwide "In-Salon" certification.
LaBella Hair Extensions are 100% First Choice Remy Human Hair - European Texture - Non-Tangling.

Hair Extension Education & Certification
1 day seminar Curriculum:
Introduction to Micro Loop & I-Tip Compression and Keratin Tip Fusion Hair Extension Systems
Sales & Marketing
Consultation & Maintenance
Application & Removal Techniques
Hands on with Mannequin
Learn Cut and Style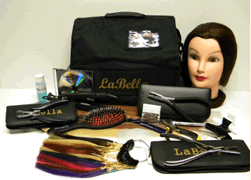 LaBella Hair Extension Pro Kit is included with the seminar:
Keratin Hot Iron
Keratin Bond Remover Tool
Keratin Bond Remover Solution
10 Keratin Bond Shields
Micro-Loop Compression Tool
Micro-Loop Removal Tool
I-Tip Compression/Removal Tool
I-Tip Threader Loop & Needle Tool
100 - I-Tip Beads
80 Strands of Hair - Assorted Colors
Color Ring
Hair Extension Brush
Tail Comb
Assorted Hair Clips
Mannequin
Carry All Bag
Instructional DVD
Seminar Handbook
Certification Certificate
2016 Class Schedule:
August 22
September 26
October 24
November 28
No Classes in June, July or December
To make a reservation to attend a certification class, contact Debbie 908-231-0720

LaBella Training Video
Demonstration of the LaBella strand by strand micro-loop compression system as well as the LaBella keratin-tip fusion system.