A word from Hair Extension expert Tony Odisho...
Article by Tony Odisho
Not all hair extensions are created equal – What you need to know in order to succeed
The industry's hottest-trend, hair extensions, is experiencing record growth. Capture this booming market by arming yourself with the information and tools needed for professional success. Here are the key elements to consider before launching your lucrative extensions business.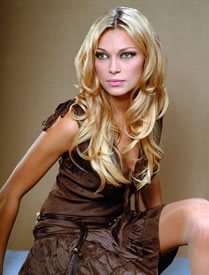 Stylists are driven by both trends and technological innovation. Hair extensions have become an integral salon tool for professionals eager to expand their creativity and offer clients an even wider range of options. Over the past few years, extensions have exploded into an industry phenomenon with unprecedented growth. The demand is greater than ever for high-quality hair extensions using cutting-edge technology, which result in a look that is healthy, lush, versatile and completely natural. With so many options flooding the marketplace, it can be challenging to select the hair extensions products that will best meet the specific needs of your clientele and guarantee the successful introduction of extensions into your new or expanding business. Take the time to educate yourself on the basics before choosing a brand.
One of the most important factors to consider when deciding to offer hair extensions is the raw material. Most vendors today offer 100% human hair, which is seamlessly added to the client's natural hair. The identical look and feel of the human hair allows the extensions to be treated and maintained as natural hair, without styling restrictions.
However, not all "human hair" extensions are created equal. When researching high quality extensions it's crucial to select human hair that is from 100% Eastern European and Indian sources because of its high cuticle compatibility with our own hair. The ideal bean/oval shaped cuticle is 80 microns in depth and accepts the processing of de-pigmentation and pigmentation easily.
Hair of Asian origin (China, Indonesia) is the most widely available at all price ranges in the marketplace but tends to be brittle after processing and breaks easily, creating a weaker finished product. Asian hair naturally has a large, round, strong, healthy cuticle with a thick circumference of 120 microns that is difficult to process. Because the strands are a natural jet black color and an average of 50% thicker, they are more difficult to chemically permeate with de-pigmentation solution. The raw strands must be processed for up to 50% longer which compromises the health of cuticle. It loses its own natural protection and is left weak and fragile. The strands must then be coated with silicone or other additives, offering the appearance of silky, healthy hair. With washing these elements quickly disappear, leaving behind only the damaged extension.
Another important consideration in choosing a brand of hair is the harvesting method and accompanying strand length. Always ensure the extensions you use are gathered using the Remis System to guarantee that all hair cuticles face the same direction. Once installed, remis extensions fall into place and are easily incorporated into the natural hair for extensions that are silky, smooth, and easy to style. Non Remis hair is nearly impossible to manage and becomes more tangled each time it is washed, styled or brushed. Also, ask whether hair remains together as harvested throughout production or if it is processed en masse and then reassembled into strands. When this happens, hair of differing lengths is gathered into one extension strand which can potentially disrupt the Remis system or produce inconsistent length.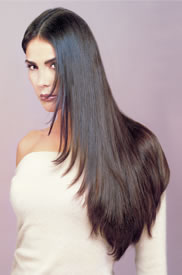 Application and bonding methods are the most obvious points of differentiation among hair extension brands. It is vital to choose a method that is non-damaging to your client's natural hair. As a stylist, you are called upon to enhance self-esteem and solve problems for your clients, not create them! Bonding should be fast, simple, secure and painless – for both you and your client. Beware of methods like beads, resin or glue –these bonds are made of material that is chemically different from natural hair, so the extensions will react differently than the natural hair when confronted by styling or environmental factors. With heat or humidity, artificial bonds like beads, glue or resin do not expand and contract at the same ratio as hair. This can cause stress and breakage on the natural hair as it is struggles to hold the additional weight of the extension. Look for a brand that utilizes a natural keratin protein, identical to that found in natural hair. Both the extension hair and the bond will expand and contract at the same rate as the natural hair for a long-lasting, safe, secure bond.
It is crucial to provide your clients with reliable extensions from a reputable company who offers not only the highest quality hair extensions, but is also is committed to supporting your business. Look for hands-on training, certification, business and marketing materials, quick shipping and responsive personal service. Proper training with the latest technology and tools is the first and most important step in introducing hair extensions to your clients.
Properly applied hair extensions can not only enhance your client's hairstyle and boost self-confidence, but also provide limitless growth potential for you and your salon. Consumer demand among all client groups is growing far beyond supply. Hair extensions are here to stay. Arm yourself for success with the latest information and best market practices.
About Tony Odisho, President of Euro So.Cap. USA
A pioneer of the extensions industry, Tony bridged the gap between the European and American extensions market by opening the US division of Euro So.Cap. in 2001. What began as Tony's singular passion for extensions as an artistic tool has become the US salon industry's hottest movement. He frequently travels to Italy as an integral member of the product development team and continues to garner a reputation for being an industry leader and extensions artist.
About Euro So.Cap. USA
Euro So.Cap., the world's premiere brand of hair extensions for over 40 years, is known around the globe for offering only the highest quality 100% human hair of Eastern European and Indian origin. Its patented keratin protein bond offers a secure, non-damaging application unmatched elsewhere in the industry. With direct distribution from Italy, Euro So.Cap. USA's Training & Distribution reduces cost, while offering hands-on training, certification, and on-going business/marketing support.
For more information call: (212) 967-7866.
Back to Hair Extension Experts overview
Would you like your hair extension related article to be published on our site?
Email it for evaluation to: editors@HairExtensionGuide.com