What we can do for your Hair Extension Business
Do you offer a hair extension service?...Let potential clients find YOU!
We offer FREE listings in our directory and for the price of a cup of coffee per month you can be a registered member and have a larger standard listing.
Can you imagine? If your listing would only bring you 1 new customer in 5 years it would still pay off. That offer is hard to beat!
That's not all!
You will get your own FREE profile page on our site! Your own page where you can have more info, photos, videos, make announcements and more.
Join us and be a part of the most used hair extension resource on the Internet. We offer many FREE options to present your hair extension service to a large audience.
Directories for salons and stylists

Thousands of visitors use our directories to find a salon or stylist that offers hair extensions. We have many different ways available to join a directory so our visitors can find you as well.
FREE Listings
You can join our directory totally free. With a free listing you are listed under your city in our directory of your state with your business name, address and phone number so our visitors can contact you to make an appointment. It is placed below the listings of our registered members.
With a free listing you are an important part of our directory but you are not a registered member.
You can take advantage of free other services that we offer like our photo showroom and publication of guest articles.
Paid Listings and Ads
You can be a registered member and have a standard listing for as little as $4.95 per month. A standard listing is placed before the free listings under your city and is larger so it stands out more. There is something for every budget, from different types of listings to full color banners and side ads.
As a registered member you can take advantage of all the free ways we offer to promote your business (see below).
Click here for samples and more information about our listings and ads.
Profile page for members

As a member you have a profile page. This is your own page on our site. On your page you can add more info about yourself and your salon. You can have videos and photos, make announcements and share news with your clients. Your own space on the Hair Extension Guide.
Click here to see an example of a profile page.
Be a featured stylist or salon
All members have the opportunity to be featured on our site. Every week we give a stylist the opportunity to get more attention and present his or her self to our visitors. We dedicate a whole page to the featured stylist. It is announced on our home page where thousands of visitors can see it.
Also YOUR SALON can be featured
Are you a member? Would you or one of your stylists like to be a featured stylist? Tell us more about the stylist and send us pictures (of salon, stylist, samples of the work that was done etc.).
It is not just for stylists. Your salon can be featured as well. Tell us more about your salon, email us photos or videos and we will take care of the rest. We review all requests in the order we receive them.
It is FREE!
Email your info to: editors@HairExtensionGuide.com
Subject: "Featured salon" or "Features stylist"
Free photo showroom and videos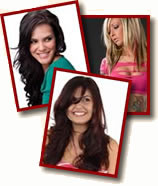 We have a photo showroom where you can display photos of your work. Our visitors love before and after photos. All pictures can be published with your name and phone number so it is easy to contact you for an appointment when they like your work. All stylists can publish photos.
Do you have videos of your salon or instructional videos etc. you would like to share with thousands of visitors? Let us know. You can publish your videos on the Hair Extension Guide.
Email : editors@HairExtensionGuide.com
Subject: "Videos" or "Photo Showroom"
Free publication of articles and news
We invite hair extension specialists to become involved in the Hair Extension Guide. Share your opinion and expertise on any related topic with a large audience. Guest articles can have pictures and can be published with your name and contact info.
Is there an event you like to share, a new product you would like to introduce or are you opening a new salon? Share your latest news with our visitors in our news section. News articles can have photos and videos as well as your name and contact information.
Email : editors@HairExtensionGuide.com
Subject: "News"
Ideas, comments, suggestions or questions? Please let us know!
We appreciate your opinion.