HiTrust Hair
Hair Extension Supplies in Delaware
Salon Profile
Comments/Reviews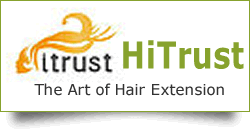 Name
:
HiTrust Hair
Address
:
1140 River Road
New Castle, DE 19720
Map/Directions
Phone
:
(302) 480-3536
Website
:
www.hitrusthairextension.com
Products
:

- 100% natural human hair
- machine wefts
- pre-bonded hair
- clip-in hair extensions
- bulk hairs
- ladies' wigs
- hair extension tools and kits.
About HiTrust Hair
HiTrust Hair has their factory located in Qingdao city, China. We have been in the hair industry for over 20 years.
We are committed to seeking the newest innovations in the hair industry and offer the highest quality of hair products to our customers.