Ashley Grey Salon & Extension Studio
Hair Extensions in Raleigh, NC
Salon Profile
Photos
Announcements
Comments/Reviews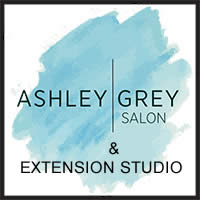 Name
:
Ashley Grey Salon & Extension Studio
Address
:
2091 W. Millbrook Rd. Suite #103
Raleigh, NC 27612
Map/Directions
Front Desk
(919) 752-4041
Ashley's cell
:
(919) 497-2920
Email
:
ashleygreysalon@gmail.com
Website
:
www.ashleygreysalon.com
Hours
:
Monday 10am-6pm
Tuesday 10am-5pm
Thursday 10am-6:30pm
Friday 10am-6:30pm
Saturday 10am-5:00pm
Closed Wednesday and Sunday
Services
:
Hair Extensions
Certified in
- Great Lengths
- Aqua Tape in Hair Extensions
- She by SoCap keratin bond
- Keratin Tape
- NXS Tresses
- Perfectress
- Glam
- Easihair Pro
- Hairtalk hair extensions

Other salon services
- Cuts
- Blow Outs
- Color
- Smoothing Treatments
- Conditioning Treatments
- Makeovers
About Ashley Grey Salon
We offer FREE CONSULTATIONS! We will talk about your extension goals and desires and what works best for you. I have sample prices of what each looks like. We will then decide on colors from my multiple color swatches from each company. Service will be scheduled after the free consultation.

Announcements
December 12, 2016
*** For every person you refer that gets a whole set of new Extensions of any kind.....
*** Receive $100 OFF YOUR NEXT Extension Service ***
(Does not include hair costs)
November 11, 2016
*** Refer a friend and receive a 20% discount on your next extension service **** (Excludes hair costs)
FREE CONSULTATIONS!
September 27, 2016
Proud to announce the arrival and certified salon in Aqua Tape in Hair Extensions