Frankly Weaves and Extensions
Hair Extensions in Brooklyn, NY
Salon Profile
Extension Services
Photos
Comments/Reviews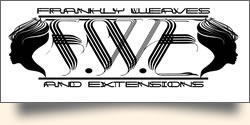 Name
:
Frankly Weaves and Extensions
Address
:
Newkirk Avenue
Brooklyn, NY 11226
Phone
:
917-371-9677
Email
:
franklyweavesnextensions@gmail.com
Services
:
- Traditional weaving
- Vexin sewin
- closure weaves
- 2/3 part method
- micro links
- Dream Catchers hair extensions
- spider weave
- 1 hour weave
Meet our Stellar Weave Specialist
When searching for the perfect stylist, look no further than Weave Specialist Cynthia D, the owner of Frankly Weaves & Extensions in Brooklyn New York. Cynthia has over 10 years of experience and brings her impeccable talent and palpable passion to all women who wants to look amazing Cynthia is a licensed cosmetologist, hairstyle, Extensions Specialist and Makeup Artist in New York City. She is also certified as a DreamCatcher stylist, as well as trained in all of the techniques you know and love. As a former beauty educator, she understands the importance of staying up-to-date with the latest techniques and carries this through all of her styles. Her extensive and fabulous work has graced both Essence and Life & Styles. Cynthia was even the winner of the Best Micro–Link Extensions in the august 2013 Edition of the Hair Extension Guide.
An Enchanting Gift
Cynthia's breathtaking work and positive energy is a winning combination that leaves every client looking and feeling more beautiful than ever. She has the innate ability to capture the unique beauty in every women and enhance it in a way that is both effortless and glamorous. She offers a true beauty experiences, not just hair appointments. Your are sure to leave the salon transformed into the best version of yourself every time.
Contact us in Brooklyn, New York to meet with our Specialist 917-371-9677

Techniques offered
Traditional Weaving
Traditional weaving is a technique in which we braid the clients hair into a protective style, creating a flawless and natural look that is undetectable. For this style, you must provide the hair, though in special cases, we provide it. Traditional weaving is by appointments only and works well for African-American clients and people with curly or textured hair. This technique can last up to 3 month with proper maintenance.
Vexin Sew-in
This method is one of the newest and latest techniques … Amaze everyone with this intricate yet versatile style that gives you the option to wear your hair 4 different ways. For example: 1 High Ponytail. Part in the middle, Braided in two or all comb back For this method, it is recommended that you have at least 5-6 inches of healthy hair.
Weaving w Closure
This style of wearing is great for customers who want a protective style, meaning they want to protect their hair and maintain heat free styling. This is usually great for clients who have damaged or colored hair and or want to grow out their hair.
A closure (sold separately) provides a seamless attachment without the use of your own hair while duplicating scalp- realness. This gives the client option for adding length, fullness and color without compromising, giving your natural hair an opportunity to grow and rest.
The 2 or 3 Part Flip Method
One of the newest techniques out that allows you to have maximum versatility without the use of a closure. With the 2 part you are able to select the parts that you want and a braid pattern is formed to accommodate this style. Select between having a middle part and a side part with ease. Select the 3 part and you are able to go 3 ways with your parting: left side, middle part or right side part and who can be mad about that. If you like switching up your part without switching out those dollars, this is the technique for you.
Braidless
Is a technique that allows versatility. Tracks are attached with micro links to the hair along with a track of hair to secure addition of hair. Tracks are added row by row to achieve fullness and length while giving a natural yet undetectable appearance. These last for up to six weeks with proper adjustments and tightening. This techniques is also referred to as the Malaysian.
Sleek Micro Links
Micro links are another popular technique that offer versatility to free flowing tresses. This method is a very special formulated technique performed by a highly skilled operator. It allows you to add length, fullness and highlights to your hair.
DreamCatchers Hair Extensions
This is a full line hair products, tools and quality hair backed by an excellent company. DreamCatchers is the only hair extension brand that is guaranteed and reusable. They last up to six months with regular maintenance. We make readjustments every four to six weeks depending on growth pattern. When you find the perfect shade and texture of hair, our professionals order it for you and install the extensions with mirco-links. We attached with small cylinder of silicone so as not to damage your hair with chemicals or glue.
Versatile Series
The name alone makes you wonder and how surprised will you be at what can be achieved when you go into the versatile series world. Here are a few examples:
Versatile FlipOver Method – Hair is all braided to conform to the scalp which allows for a flat undetectable weave look. Only the perimeter is out which mean the hair around your hairline and nape will be out. Where the flip over comes into play is where the tracks are formed at the top of the rom being about to have the diva flip in front -over the front give you a great illusion of you have lots of hair. High ponytails can be achieved as well.

Vertical Versatile – This is a style that will allow you to have a sleek middle part style which if you want, will allow you to have two Indian -style braids straight back with separation.

2Part Versatile – If you are a ponytail diva, this will be a style to fall in love with. With this technique you are able to horizontally part your hair into two halves and where them in a high ponytail/high bun. Great if you are sporting and love being in the gym.
Samples of designs by Frankly Weaves