PonyExpressCustomHair.com
Hair Extensions in Albuquerque, NM
Salon Profile
Comments/Reviews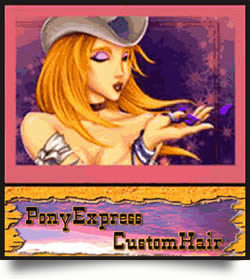 Name
:
PonyExpressCustomHair.com
Address
:
2509 Vermont St, N.E., Building D
Albuquerque, NM 87059
Map/Directions
Phone
:
505-715-9600
Email
:
Linda@PonyExpressCustomHair.com
Website
:
www.ponyexpresscustomhair.com
Hours
:
Not Specified
Services
:
All Hair Extension services & attachment methods.
Also specialized in Hair Replacement services for balding & hair thinning clients.
About PonyExpressCustomHair
PonyExpressCustomHair has been a family business since 1929. Owner Linda learned the trade from her grandmother. At a very young age she learned that the quality of the hair is extremely important.
PonyExpressCustomHair uses only the finest hair with the cuticle intact. Linda blends the hair herself, to ensure a superior, perfect, personalized result.