Ravell Salon
Hair Extensions in New York City and Long Island
Salon Profile
Comments/Reviews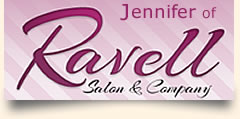 Name
:
Ravell Salon
Location
:
295 West Jericho Tpke, Suite 23
Huntington, NY 11746
Map/Directions
Phone
:
(631) 425-0613
(631) 553-5151
Email
:
ravellsalon@aol.com
Website
:
www.ravellsalon.com
Hours
:
Monday through Sunday by Appointment
Services
:
Hair Extension Expert
- Great Lengths USA certified Salon
- Hair Dreams
- SoCap USA
- Cinderella
- Ultra Strands
- Ultratress
- Dreamcatchers
- Microlinks
- I-Tip
- Feathers
- Wigs, Top Pieces
- Ponytails & CLIP Ins
- Brazilian Keratin Chocolate Safe Treatments
- Women Haircutting/Styling
- Redken Color, Shades and Keratin Complex
- Color correction
- Highlights/lowlights, Bayalage, Ombre
- Free Consults by Appt.
About Ravell Salon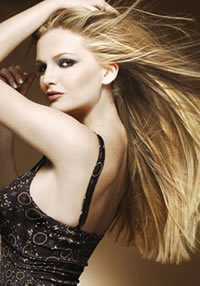 Ravell Salon, featuring Jennifer Ravell, celebrity Great Lengths Hair Extension Expert. Jennifer earned a NYS Cosmetology license after receiving a degree from Ultissima Beauty School.
Her education continued at the prestigious Nubest & Co. salon in Manhasset, NY and then continued on to various upscale salons in Long Island.
After receiving a hair extension service in NYC herself, she was so amazed at the beautiful results she then decided to delve into the world of hair extensions herself. Jennifer started her training with the world reknowned Great Lengths Hair Extension company and became certified in 2001. After learning the cutting edge techniques with hair extensions she realized she could be artistic and enhance her clients hair by length, body and fullness while matching the color exactly all within a few short hours.
Jennifer is well known in the hair extension world and continues to achieve undetectable results through non-surgical methods that are undetectable, seamless and can be dramatic or subtle.
In addition to Great Lengths, the Rolls Royce of hair extensions, Jennifer is certified with Dream Catchers, SoCap USA, Hairdreams, Ultratress, UltraStrands, HairLocs, Feather Extensions, Donna Bella, Short2Long, Tinsel Hair, Balmain, Remy Links, I-Tip, Organic Hair Extensions, Cinderella, Glam Hair Seamless Flat Strips, Jewel/Crystal/DreamDot, 100% Human Hair Clip Ins, Ponytails, Wigs and Hairpieces. There is also a private wig salon where clients can try the latest wigs and hair additions to suit all their needs.
Jennifer has been featured as the main stylist on HBO's "Family Bonds" series and performed the Great Lengths Hair Extension service along with coloring and hair designing Flo Evangelista's hair for the show and was seen on their "Last Episode" throughout that show.
It was really exciting and a new experience being on HBO and got to experience a film crew being right in the salon. It was a great experience and she was proud to be a part of being on TV. Recently,Jennifer's hair extensions were worn by Krystle, Makeup Artist for the "Jerseylicious" show on the Style Network. Jennifer is LICENSED in NYS, CA and FL.