Allan Ngo ~ Respected Hair Icon
Press release by Larry Oskin, September 2015
Method Alliance ~ Transforming Education With Successful International Hair Stars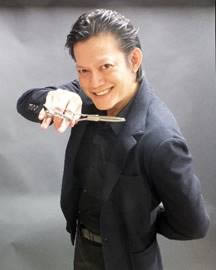 Allan's Salon: Allan Ngo is the successful owner of Allan's Salon in Santa Clara. In business now for over 15 years. with a combined staff of commission-based employees and some independent chair renters, Ngo has found a formula that works well for everyone, especially their loyal clientele. Today, Allan Ngo is one of Silicon Valley's most sophisticated hair designers. He was born in the Vietnam countryside.
A Challenging Start! At the young age of 16, he realized his passion for the craft of hairdressing. With so much motivation and willingness to learn, yet with no money; Ngo went out to look for work as a hair designer. A man working in a hole-in-the-wall salon offered Allan Ngo the opportunity to work in his space for free. In an exchange for education, Ngo quickly took advantage of this first career opportunity in a heartbeat. For 8 years, Ngo worked there learning from trial and error and gradually gained more experience . At the age of 24, he felt the urge to travel out to the United States to have more opportunities to learn and to expand his career dreams. Allan Ngo and his family packed up all their necessities and traveled here to the USA. Arriving in San Jose, CA for the first time, he felt excited and motivated in a big city to continue his education as a hairstylist. By 1990, Allan's perception of the bob haircut changed. He was inspired by one of Vidal Sassoon's many commercials showing a young woman vigorously tossing her hair while it still also looked still so precise with so much movement. Allan Ngo knew this was his goal to obtain the required skills to execute precision bob haircuts, during his stay in the United States. One of the main challenges Ngo experienced was a strong language barrier. Not being able to express his feelings and communicate well, felt suffocating to him. Therefore, he felt like he was holding back. Allan Ngo admits that he is still working hard to learn how to improve his English and communications skills every day. Whether it is from traveling around the world as a respected world class hair design platform artist and educator for manufacturers or educating other hairdressers in Asia, or by working in his salon with his staff and clients, he loves every minute of it!
Salon Success As A Specialty! Ngo specialized in creative haircuts, haircolor and dynamic hairstyle designs. He loves the benefits of teamwork. In his salon, he always wants every experience to be a win-win-win situation for his clients first, the staff second and then for the salon as a business. He knows that if everyone else is happy and successful, then he too will be very successful. He has learned and perfected many diverse techniques over the years, yet he primarily uses the Method Alliance techniques developed by Alan Benfield Bush combined with his own personal adaptations for his haircutting techniques and business operations. He actively uses many different professional Japanese haircare products, to set his salon apart from the local area competition. As part of their unique success story, they only take appointments and professional referrals. They do not take any walk-ins. This has helped them develop a very loyal clientele, knowing they operate this salon under distinctively different standards. They do not rush any clients. They work hard to ensure extra time for appointments with each client to make their salon experience more enjoyable and noteworthy. Ultimate client satisfaction with each and every client visit is their top strategic goal for success. While 80% of their clientele is adult women, they do cater to men and children as well. Even though they are known for their advanced precision haircutting skills, 80% of their adult clients take advantage of creative haircolor and highlight services. He regularly offers motivational contests and rewards to his staff with advanced education, gifts, shears and blow dryers.
Educators' Educator: As a respected platform artist and freelance educator, Allan Ngo offers his services to an array of professional beautycare manufacturers. Allan Ngo Notes, "I prefer to teach classic haircuts with creative haircolor. There are three things I won't do. I do not use a razor to cut dry hair. I do not use a brush or thinning shears on wet hair. I also do not apply bleach and put them under the dryer. We will not damage our clients' hair while putting them unnecessarily under a hooded hair dryer." Ngo concludes, "I admire Alan Benfield Bush as a mentor. I love The Method! I am honored to be designated as a top American Hair Icon by Bush."
For more information about Allan Ngo and Allan's Salon, visit
4483 Stevens Creek Boulevard, Santa Clara, CA 95051.
Call 408-984-0989 or email Allans.Salon000@GMail.com
www.allanssalon.com.
Other Hair Icons
Alan Benfield Bush
J Christian
Chad Clark
Would you like your hair extension related article to be published on our site?
Email it for evaluation to: editors@HairExtensionGuide.com