Chad Clark ~ International Hair Icon
Press release by Larry Oskin, September 2015
Method Alliance: Transforms Salon Industry Education With Elite Hair Stars!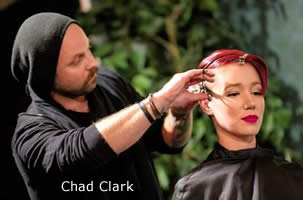 Visalia, CA Chad Clark has been in love with hair for over a decade. After graduating from the Vidal Sassoon Academy in Santa Monica, CA. Clark moved to Europe and began work with Toni & Guy in Brussels, Belgium. He has led and inspired hair designers in salons and on stages across the country for Paul Mitchell Systems, the Sassoon Academy, Ergo, Flex Salon Concepts and most recently for Method Alliance. Clark recently performed on stage at a Method Alliance Hair Icons event with Alan Benfield Bush and their Hair Icons Team.
Chad Clark ~ Method Alliance Hair Icon: He currently wears many hats to engage in every stage of salon work from behind the chair as an independent hairdresser focused on building a successful clientele in Visalia, California as well as to be a respected educator and a creative platform artist. At the end of this year, he plans to open the new Chad Clark Salon & Hair Academy as a home to learn for the 99% of us that do not have the needed access to advanced education. He will still perform at national and international salon industry events and the international beauty shows. His specialties include precision haircutting artistry blended with texture as well as his own hybrid system that combines structure with texture. He plans to always be a motivational educator that shares realistic expectations with potential future growth opportunities for other hair designers.
Chad Clark notes, "I am very proud and quite humbled to have been selected as a member of the new Method Alliance Hair Icons Team. The first Hair Icons event held recently in Los Angeles was monumental. It was the launch for the shift of where professional salon education needs to be going for our industry. Alan Benfield Bush assembled and directed our team to share important generic haircutting and professional salon business information without any product representation. It was very inspiring to be with Alan on stage, to see and hear his vision for the future of our salon industry.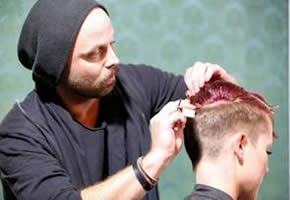 Method Alliance: Clark adds, "I was first exposed to Alan Benfield Bush and The Method four years ago. I instantly felt a positive connection. The Method is a logical and systematic approach to cut hair. Alan really is the father of the same universal descriptive language, which he created for us as hair designers. Alan is a huge friend and inspiring mentor for me as he coaches and guides me. Our great personal and professional relationship has helped me to garner both career and financial success. The Method helps me to stay consistent with my salon services, so clients come back again and again. The Method really helps everyone adhere to your desired goals."
Salon Industry Perspectives: Clark feels that we lack awareness today, sharing that many hair designers are complacent about themselves and their careers. He says, "Don't allow yourself to be brainwashed by the big business names and brands. What is important is how we independently use and celebrate the professional brands we select. I only want to work with and recommend professional products that are sold exclusively through salons which support the professional hairdressers. Too many manufacturers have undermined the real diversion with phony anti-diversion marketing campaigns. We need a Renaissance! As hair designers, we must take action to only support those product companies that support us. It is very exciting to see so many new brands emerging today, like they did in the 70s when Redken, Paul Mitchell and Horst with Aveda were first launched. Unfortunately many of those brands have sold us out. Fortunately, there are many great new indie brands who will achieve big success over the next few decades. Today, we are now lacking generic technical and business education that is not biased by the big haircare manufacturers. The Method Alliance Team will bring a valuable new industry consciousness. Push yourself to become a well-educated and a well-rounded hair designer in all technical and business aspects of our industry, while not costing you your soul or integrity."
Hairdresser's Advice: Chad Clark adds, "I hope the new Hairdresser's Advice website and Facebook page will become the new go to platform to learn, ask questions, get inspired and to share our salon industry success stories. The quick success of the Facebook page with over 70,000 followers is proof that we are all ready for a change in how progressive salon education will be shared in the future! I suggest you visit and subscribe to: www.HairdressersAdvice.com."
Thirst Project: "As hair designers and salon owners, we are some of the highest using consumers of water. We are also quite often unaware of what it takes to provide safe clean drinking water to everyone across the globe. The philanthropy created by the new Thirst Project is wonderful. The message spearheaded by Eden Sassoon, Alan Benfield Bush, Tony Beckerman and Teri Donnelly have been motivating. Even if we and only one client each day can donate to support this cause, we can make a difference.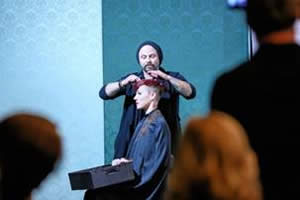 Chad Clark: Educated at Vidal Sassoon Academies, his name has become synonymous with the salon industry "indie movement" as well as in the hair education world. He is recognized as a passionate, dedicated and charismatic leader, showing no limits to his ability to share with hairstylists how to be more successful and to make more money as more knowledgeable as confident professionals. His ability as an educator and platform artist to connect with any audience is comparable the best of the best international salon industry leaders. Besides being named as a Method Alliance International Hair Icon, Clark recently was also given the title as Director of Education for FlexStylists.com, a new resource to help support independent hair designers. By working with a national network of salons, hairdressers can book a salon chair by only paying for the space and time without any weekly rental obligation. This group will be supported by an independent educational program.
For more information, visit their website or call 818-925-5978.
Hair Icon Team: The Method Alliance has quickly gained respectability from top salon owners and hair design engineers. Launched by Alan Benfield Bush, The Method team actively provides valuable hair artistry and generic business education for hair design engineers, salon owners, distributors and manufacturers. With a team of internationally respected 'Hair Icons' as educators, this very innovative non-branded and 100% generic approach is quickly being embraced by manufacturers, distributors, salon owners and hair design professionals.
For more information about Chad Clark, call 559-747-7718 or email ChadClarkHair@Yahoo.com.
Other Hair Icons
Alan Benfield Bush
J Christian
Allan Ngo
Would you like your hair extension related article to be published on our site?
Email it for evaluation to: editors@HairExtensionGuide.com