J Christian ~ International Hair Icon
Press release by Larry Oskin, September 2015
Transforming Education With Successful & Respected Method Alliance Hair Stars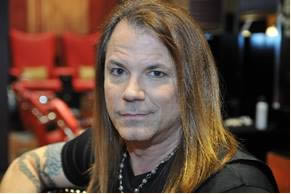 J Christian has proven to be a successful professional salon owner, hair designer, educator and platform artist over the past 38 years. With positive mentoring advice from an uncle and cousin who were hair designers, J. Christian entered the salon industry. Over the years he worked with many industry leaders like Michael O'Rourke, Matrix, Redken, Nexxus and Alan Benfield Bush to become well-rounded. He studied Trevor Sorbie, Paul Mitchell, Arnie Miller, the Altieri Brothers, Vidal Sassoon, Robert Cromeans, Martin Parsons and as many celebrated hair icons as possible. Today, he personally specializes in creative haircuts, haircolor artistry, upstyles and retexturizing techniques. J Christian adds, "Today, I still work hard to learn as much as possible with new and advanced techniques. I also continue to learn and perfect as a freelance educator for salons, manufacturers and distributors."
J Christian Studio: Together with his wife Marcy, J Christian started their studio salon in Hockessin, Delaware back in 2007 with a dual mission. They created a top quality salon that was primarily focused on creating a successful business backed by advanced education as well as to develop a very strong philanthropic plan that would help them and their staff give back to their community. They worked very hard to develop their full team of hair designers, with full-service haircare, nailcare, facial treatments, hair removal and makeup. Their dual business mission was supported by a plan to achieve top quality client services through complete customer satisfaction. J Christian notes, "When we began our salon business, we created a list of what we did not like about working in other salons, so that we could make a difference providing better opportunities. We also created a list of our strategic goals and objectives to make important changes for ourselves and for the salon industry. We created a salon employee manual that was based on a win-win-win strategy, making each salon client the top priority. We know that if each of our clients always win first, our staff will each win and then we as a salon team will also successfully win." J Christian and their salon have been regularly honored with feature articles in The Wilmington News Journal, Delaware Today and numerous beauty trade publications. J Christian was honored as 'The Exceptional Hair Artist of 2011' by the Journal. The Better Business Bureau shared their prestigious Torch Award for achievements in marketing and business ethics. In recent years, they have been repeatedly recognized as a 'Top A List Salon', 'Talk Of The Town' 'Top Community Internet Presence' honoree and for their ongoing philanthropic achievements.
Endless Community & Charity Support! After their first six months, they further refined their strategic business plans to create a series of special events, hair shows and fundraisers that would regularly donate 100% of the proceeds to designated local charities within their own state. They created programs to support Delaware Hospice, Supporting Kidds, various other children's charities to help those who have suffered from a death in their families. They created a series of fundraiser events to support Ronald McDonald House with thematic based shows. Some of these thematic hair fashion events included cut-a-thons. Partnering with local businesses, they work with models, dance academies, fire dancers, jugglers, magicians, stilt walkers, photographers and as many creative entertainment talents as possible. Many events were held in a local fire hall. J Christian notes, "When it comes to helping our local community, we do it all. We do whatever works! To date, we have already helped to raise over half a million dollars to meet our mission!"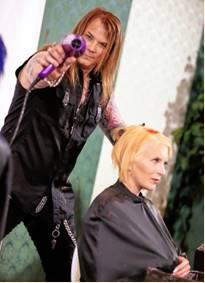 New & Future Plans: Besides his own freelance work, J Christian will soon be launching a separate new company to help generically educate new, young and experienced hair designers as well as to help salon business owners, manufacturers and distributors. He wants to help educate other salon owners on to become effective leaders as well as to lift those suffering from low margins, lack of motivation and career complacency. He wants to help educate how to be successful with new salon services, techniques and non-diverted product brands while not specifically focusing on any particular brand.
Shared Tips For Success: J Christian adds, "You must always put your own ego aside and learn to be ready to help others. You must have a willingness to learn as much as you can before you begin to share, mentor, lead and motivate others. You should learn 'The Method' by Alan Benfield Bush." Long ago, he learned The Method for creative and precise haircutting. The Method taught him Haircutting 101, so you could deal with any haircut and head shape. He notes that he first met Alan Benfield Bush several years ago, while working with him back stage with Robert Canales. He quickly learned that while he has been effectively using The Method for the past 20 years, Bush also has no ego, keeps no secrets and still shares absolutely everything he knows today.
Method Alliance: J Christian is a respected Hair Icon and a member of The Method Alliance team of educators. The Method Alliance has quickly gained respectability from top salon owners and hair design engineers. Launched by Alan Benfield Bush, The Method team actively provides valuable hair artistry and generic business education for hair design engineers, salon owners, distributors and manufacturers. This innovative non-branded and 100% generic approach is quickly being embraced by manufacturers, distributors, salon owners and hair design professionals.
For more information about J Christian and the J Christian Studio, visit
7465 Lancaster Pike, Hockessin DE 19707.
Call 302-235-2306 or email JChristianStudio@GMail.com
www.JChristianStudio.com
Other Hair Icons
Alan Benfield Bush
Chad Clark
Allan Ngo
Would you like your hair extension related article to be published on our site?
Email it for evaluation to: editors@HairExtensionGuide.com